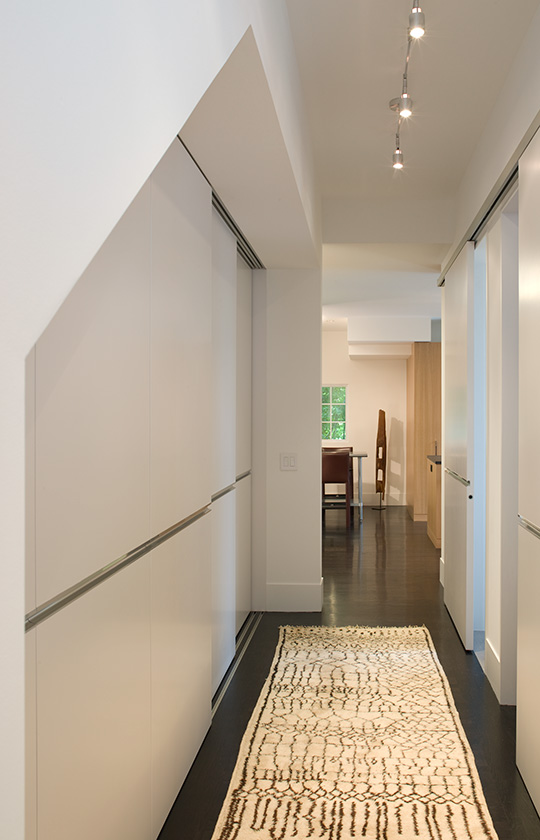 Michael Merrill Design Studio creates beautifully pared-down environments that are deceptive in their simplicity. Our work is as much about what is left out as what is included. This approach requires that each design element be carefully chosen and meticulously executed. The resulting space should convey a feeling of warmth, comfort, and well-being.
Every project provides an opportunity to create a unique and remarkable solution. We enjoy working in a wide range of styles from traditional to contemporary. We begin by striking a balance between the fundamentals of a space, searching for spatial and sculptural solutions. Once achieved, we turn our attention to the elements of interior design: lighting, acoustics, rugs, furniture, and window coverings. When selecting furnishings, we base our decisions on placement and balance with an eye to authenticity with a twist. We like to step outside of the expected. Every project incorporates elements of the very highest quality including beautiful textiles, classic furniture, and luxurious finishes to create elegantly restrained rooms. We believe the color map is just as important as the colors themselves. Lighting is carefully incorporated into every design, and if available, the owner's artwork collection is displayed to its greatest advantage.
Along every step of the way, we verify that each individual layer is complete and balanced while still working in harmony with the entire ensemble. Great care is taken with the composition of the entire space so that it not only freshens and enlivens a room, but also has space for antiques, cherished heirlooms, and mementos from travels. Our goal is to create a space that accommodates and grows with the client. Ultimately, we consider spaces complete only when people occupy and enjoy them.
Our clients are an essential part of the team, present and actively involved. We encourage them to present to us things that are meaningful to them. To facilitate communication, we have created two digital resources: an ideas library and a product source book. Both have been exhaustively researched, carefully curated and are continuously updated with the most current ideas and trends. These resources augment our early strategy conversations, are an aid in the field, and invaluable in helping our clients feel safe to take action.